Good Food
"Good Food takes into considerations more than it's nutritional contents. It is a way of looking at the social dimension of food…."
---
Good food takes into account more than its nutritional value, it is:
Healthy, as in it won't make you chronically ill.

Green, as in it was produced in a manner that is environmentally sustainable.


Fair, as in no one along the production line was exploited for its creation.

Affordable, as in people of all socioeconomic backgrounds are able to purchase it and have access to it.
(http://www.wkkf.org/default.aspx?tabid=75&CID=19&NID=61&LanguageID=0)
---



"A mango costs 67 cents at Pathmark, 79 cents at Associated and 1.79 at East Harlem Bodega."
---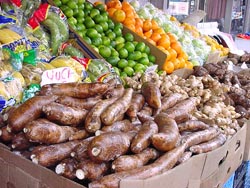 New York's Grocery Gap by Gail Robinson 21 Nov 2005
The South Bronx feeds the region. Eighty percent of the metropolitan area's fresh produce and 40 percent of its fresh meat comes through the huge Hunts Point market there. And with the opening of the new Fulton Fish market at Hunts Points last week, the neighborhood will be a leading supplier of fish as well.
But little of that fresh food reaches people in the immediate vicinity. Hunts Point is a wholesale market, off limits to individual consumers. The neighborhood has only one grocery store of any size – making it among the most poorly served communities in the city -- and less than a quarter of its bodegas carry fresh vegetables
---
"If you are eating on a budget, the most rationale economic strategy is to eat badly –and get fat."
Processed foods are more "energy dense" than fresh foods: they contain less water and fiber but more added fat and sugar.
"The real price of fruits and vegetables between 1985 and 2000 increased by nearly 40% while the real price of soda drinks decreased by 23%."
Michael Pollan "You Are What You Grow" April 22nd 2007
http://www.nytimes.com/2007/04/22/magazine/22wwlnlede.t.html
---
The USDA recommends three servings of fruits and four servings of vegetables.
http://www.fruitsandveggiesmatter.gov/
One fruit serving consists of:
1 small to medium piece of fruit
1 cup raw (cut-up) fruit
1/2 cup (4 ounces) fruit juice
1/4 cup dried fruit
1/2 cup canned fruit
1/2 of a banana
One serving of vegetables consists of:
1/2 cup cooked vegetables
1 cup raw, leafy vegetables
1/2 cup (4 ounces) vegetable